About Doreen Alsen
Short Bio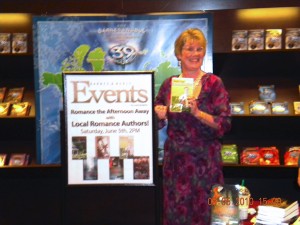 Doreen has wanted to be a writer all her life but took a brief detour into being an opera singer and choral conductor. She realized that maybe she should spend more time writing when creating the back story of her operatic characters was more fun than actually singing. Plus, her romance lovin' heart couldn't take all the dead bodies littering the stage at the end of the performance. Doreen writes contemporary romantic comedy. She likes to create stories about intelligent, independent people finding love. She still an active conductor and can be regularly found waving her arms around in front of singers.
You can contact Doreen on her blog, doreenalsen.blogspot.com, or e-mail her here.
Long Bio
Doreen Kelly Alsen is the proud owner of a varied and extremely checkered musical past.  She graduated magna cum laude from Barrington College with a Bachelor's degree in Music Education, and followed that up with a Master of Music in Vocal Performance from Ithaca College.  She studied conducting with Alfred Smith, Frank Marinaccio and Larry Doebler. Her voice teachers include Rosamund Wadsworth, Ed Doucette, Carol McAmis, Gary Race and Peter Sicilian, as well as master classes in Vienna, Austria with Kammersängerin Sena Jurinac.
In addition to leading the Finger Lakes Women's Chorale, Doreen teaches singing at the Community School of Music and Arts in Ithaca, NY.  She's been an active member of the CSMA faculty since 1985.  She has sung featured roles for the Ithaca Opera, the Cabot Street Light Opera (Providence, RI) and the Rhode Island Gilbert and Sullivan Society.  While living in Trier, Germany, Doreen taught American musical theater at the Universität Trier, as well as giving a series of lectures and recitals on the connections between American composers and poets.
As the Artistic Director and Principal Conductor for the Finger Lakes Women's Chorale, Doreen is devoted to the cause of excellence in performance of the rich and varied catalog of treble choral literature.  Check out the Chorale's website at www.flwcithaca.org. The chorale is changing its name to Bella Voce, a chamber vocal group.
Doreen is the Music Director for All Saints Church in Lansing, NY as well as St. Anthony Church in Groton.  Between the two churches, she conducts four choirs!
Doreen is a member of the Romance Writers of America, the Southern Tier Authors of Romance and the ESPAN online chapter of RWA.  Her first book, MIKE'S BEST BET was released on March 26, 2010, and her second, WHAT IAN WANTS, was released on June 24, 2010from The Wild Rose Press, www.thewildrosepress.com.  She just signed the contracts for the third book in the At The End Zone series, CHARMING DAVE, to her editor.  She's busy researching and writing her next book, NO HOPE IN HELL, about two chefs in love! Check out her blog, www.doreenalsen.blogspot.com for more info on her books, booksignings and musings about being a romance writer!
Every summer, Doreen writes the scripts for the very successful CSMA teen musical theater program, Star Search, and serves as its musical director.   She is a faculty representative to the CSMA Board of Directors.
Doreen loves to cook and calls it research for her new book. She is also a long term believer in life long learning, so she's taken up the harp and is enjoying the journey very much!