Charming Dave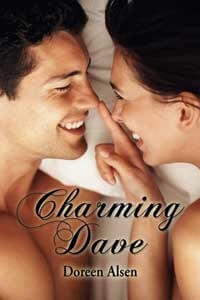 A displaced trophy wife from South Carolina, Ainslie Logan moved her family up north to escape the scandal created by her swindler of an ex-husband.  Now she alone must provide for herself and her three children by working several jobs. Even though she has no experience as a waitress, she gets a job at a local sports bar, The End Zone.
Dave Mason, the principal of the local high school, is a frequent patron at The End Zone, and he's definitely not a fan of Ainslie's.  However he sees a very different side of Ainslie when one of her children is in trouble at school.
He sees a woman he can fall in love with.  Ainslie is cautious, due to her lying ex and the needs of her children. When Dave pulls out all the stops to woo and win over Ainslie (and her kids) in a way that would make Cinderella swoon, she learns that yes, she can love again.
REVIEW
"Dave is charming as he attempts to sweep Ainslie off her feet, his consideration for her children was handled perfectly."  – full review on Single Titles
"4 of 5 stars." – Musings From an Addicted Reader